Go Over The Edge To Grant Wishes For Central And South Texas Kids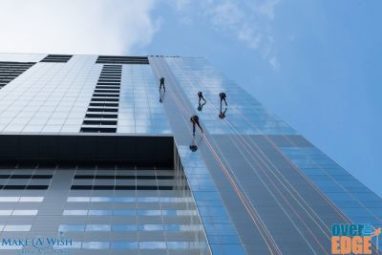 The annual Over the Edge challenge, benefiting Make-A-Wish Central and South Texas, is back this June and you can claim your spot today to join in! On June 13 and 14, 200 fundraisers will rappel down 38 stories at W Austin in downtown Austin. Up for the challenge? Register now!
Claim Your Spot On The Edge Today
If you want to join Over the Edge, you won't want to wait around! The challenge is open to the first 200 people who fundraise a minimum of $1,500, and spots are filling up quickly. All funds will go to Make-A-Wish Central and South Texas, helping them grant more wishes.
On the day of the event, make sure you wear comfortable, moveable clothing and sneakers. Participants must check in one hour before their rappel time to be geared up and briefed by experts from Over the Edge USA. Every possible safety precaution has been taken to ensure that everyone can have a great time and feel secure.
In addition to the fun of taking on the challenge, prizes will also be awarded for Fastest Rappel, Best Costume, Slowest Rappel, Most Money Raised and Biggest Chicken. You'll also receive a free photo of you taking on the challenge and a free t-shirt. 
Over the Edge takes place at W Austin, located at 200 Lavaca Street in downtown Austin. Please contact Kathryn Draper at 512-329-9474 or kathryn@cstx.wish.org for more information about the event and for any questions.
Your Support Helps Wishes Come True
Each year, more than 350 children in central and south Texas are diagnosed with a critical illness. If rappelling down a building isn't for you, there are plenty of ways you can help Make-A-Wish Central and South Texas meet their goal of reaching all of these children! You can directly support Over the Edge by donating to a participant or team to help them reach their fundraising goal.
Volunteering at Over the Edge is a great way to take part in the fun without having to take on the challenge yourself. Volunteers are a vital part in making Over the Edge possible. As a volunteer you'll receive an Over the Edge t-shirt, snacks, water and the opportunity to help make the event a huge success. Learn more about volunteering here.
Donating a vehicle to Wheels For Wishes benefiting Make-A-Wish Central and South Texas is another great way to help! Your donation is tax deductible and we provide free pick-up or towing. Best of all you can help grant wishes with your car, truck, boat, RV or motorcycle donation. Simply give us a call at 1-877-431-9474 or fill out our online car donation form. 

Back to Blog