North Carolina Pitches Wishes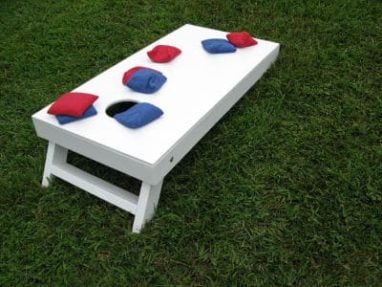 Two action-packed cornhole, or bean bag toss, tournaments are landing in North Carolina in support of Make-A-Wish Central and Western North Carolina. Pitchin For Wishes is thrown in Charlotte toward the middle of September, and Bags To Wishes falls to Greensboro near the end of the month.
Cornhole is a game in which players attempt to toss bags of corn onto slanted platforms with a small hole on top. If the bag goes through the hole, it counts for three points. If it lands on the platform, it counts for one point. Both of these exciting events will follow an NCAA bracket-style format. Although these corn bag-tossing competitions may not have the immense following of March Madness, the excitement they create is palpable. 
Pitchin For Wishes
Come to Freedom Park (1900 East Boulevard, Charlotte, N.C.) to enjoy the 9th Annual Pitchin For Wishes Cornhole Tournament. On Sept. 17 you can enjoy this family-friendly competition with check-in beginning at 10 a.m. and the tournament at 11. For just $60 for a team of two, you can join the fun! Besides the exciting tournament, this event also includes food, music and excellent entertainment.
In 2011, this simple bag-toss competition in North Carolina broke the Guinness World Record for the world's largest cornhole tournament. That year, the event had 128 teams, the next year there were 144 and last year there were 160. Help the 2016 competition break yet another record, and grant even more wishes!
Because of these record-breaking numbers, the tournament itself has raised over $1 million for local children with critical illnesses. This year, the goal is to raise $200,000 for Make-A-Wish Central and Western North Carolina. If the event reaches its goal, 33 wishes will be granted! Become a sponsor, make a donation, register to play or do all three today!
Bags To Wishes
If you live closer to the Greensboro area, there is another cornhole competition on Sept. 24! Come to Proehlific Park (4517 Jessup Grove Rd., Greensboro, N.C.) for the first ever Bags To Wishes! For the first year, this tournament is hoping to raise $60,000 which would grant 10 wishes. For just $60, your team of two can join the wish-granting power! Come for the tournament; stay for the food, drinks, music and kids' activities. This competition is for all ages! You can sponsor the event, make a donation or register to play today!
Tossed Out? Here's Another Way To Help
Together, these events are looking to grant 43 wishes. If you are looking to make a big impact on the local children of central and western North Carolina, there is a really easy way! Donate any unwanted vehicle to Wheels For Wishes, and get free towing and a great tax deduction.
Wheels For Wishes is a nonprofit 501(c)(3) organization that takes the hassle out of donation. We make it easy, you get a tax deduction and local children get their wishes granted! It's a win-win-win! Donate today by filling out a car donation form or by calling 1-877-431-9474. 

Back to Blog