Detroit Auto Show One Of World's Most Anticipated Shows
Car companies have a hard time keeping their new or remodeled cars secret. With hundreds of websites dedicated to the car industry, that job is nearly impossible. But that doesn't stop people from flocking to car shows big and small to see what those companies have to offer.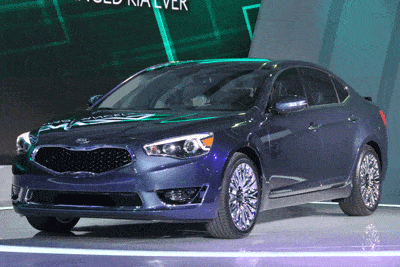 Even though the Internet has lots of information about these cars, the one thing you still can't do online is touch and feel some of the most popular cars on the market. Whether you want to ogle at a Ferrari or sit in something a little more sensible, the auto show is for you. More than 60 car shows each year take place nationwide, but the biggest one that industry insiders and car fans point to each year is the North American International Auto Show in Detroit. 
The 2014 North American International Auto Show at Cobo Hall is the 25th iteration of this show that ranks among the top in the world. Detroit isn't called "The Motor City" for nothing, and as the long-time hub of American auto manufacturing, this January show is where many of the most anticipated debuts happen.
The 2013 NAIAS featured 71 vehicle debuts – all but 10 of those were worldwide introductions. More than 5,000 journalists attended from 62 countries and 795,416 visitors passed through the doors. The public portion of 2014 NAIAS runs from Jan. 18-26, which is preceded by two days of press previews, two days of industry previews and a black-tie charity event.
Most of the debuts are kept under wraps until they happen. But if you get to the show, let us know what cars look great to you, and share your photos on our Twitter or Facebook feed.
Did The Show Inspire You To Shop? Donate Your Car!
Now that you've experienced up close the latest and greatest that the auto industry has to offer, what are you going to do with that car in your garage that you want to get rid of in favor of a newer, shinier model? One option is to donate it to Wheels For Wishes, benefiting Make-A-Wish. It's a simple process where you can donate a car online in just a few minutes, and can also help make a wish come true for a child with a critical illness. If you've got any questions, check our 2014 Car Donation Guide.
All you need to do is donate an unwanted car, truck, SUV, RV, motorcycle, or boat and it will help to grant a wish for a local child in your community. All of the hassle that is typically associated with getting rid of an unwanted vehicle is handled for you. No paying for and posting listings. No dealing with set up times for potential buyers to view the vehicle. No haggling or price wars. No producing maintenance logs or waiting for a buyer to have their mechanic look it over. Plus, you'll get a tax donation for your vehicle, which you don't get when you try to sell it.
All you have to do is pick up the phone and call 1-877-431-9474 or fill out our easy online vehicle donation form. You don't even have to be home when the pick-up happens! It is just that simple and you will feel great about helping those who are striving to feel hope, strength, and joy once again. 

Back to Blog