Join Make-A-Wish For A Day At The Races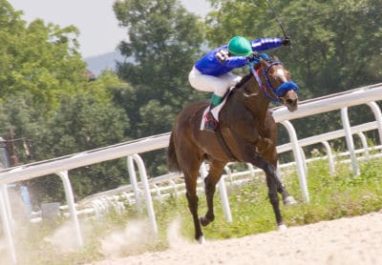 One of the most iconic activities in Kentucky is horseracing and there are no shortage of iconic tracks in the Bluegrass State to see thoroughbreds run. One of them, Keeneland, is offering a special ticket package that will do more than let you enjoy a day at the races: It will allow you to help Make-A-Wish Ohio, Kentucky and Indiana at the same time!
The thoroughbred industry and Keeneland have teamed up to grant the wishes of nine local Kentucky children through Make-A-Wish Day at Keeneland in Lexington on Thursday, Oct. 9. Post time for the first race is 1:05 p.m. As guests of honor, the Wish Kids and their families meet the Keeneland jockeys in the paddock, watch their sponsor's race from the winner's circle, and, at the end of each race, present the trophy for the race named after their sponsoring farm. 
The participating farms and organizations are: Ashford Stud, Darley, Gainesway, The Frizzy Foundation, Lane's End Farm, Rood & Riddle Equine Hospital, Shadwell Farm, Stonestreet Farm and Three Chimneys Farm.
Tickets Available Today
Get involved today by purchasing a Wishing at the Races Ticket Package for $25 on the event's website or by calling 1-877-206-9474. The ticket package includes a general admission ticket, reserved seating in the Grandstand, a Keeneland program and a limited edition T-shirt. The ticket price is not tax-deductible, and 65 percent of all ticket sales benefit Make-A-Wish Ohio, Kentucky and Indiana.
Those in attendance will have the opportunity to help make even more wishes come true by placing a donation into the "Wishing Well," which will be set up on-site at Keeneland just outside of the paddock. Join Make-A-Wish for a special and exciting day at the races!
Support Make-A-Wish In Other Ways
Since 1983, Make-A-Wish Ohio, Kentucky and Indiana has granted more than 12,000 wishes for children facing critical illnesses. With your help, you can help them reach even more children and grant their wish during a time when they need it most. Attending Make-A-Wish Day at Keeneland is an excellent way to help make that happen. However, if you can't attend there are still ways you can help.
If you have an unwanted car, SUV, RV, camper or boat, you can turn that vehicle into a wish for a child in your community when you donate it to Wheels For Wishes, benefiting Make-A-Wish Ohio, Kentucky and Indiana. Wheels For Wishes will auction or recycle your donated vehicle and the proceeds from its sale go to Make-A-Wish Ohio, Kentucky and Indiana, helping kids in Louisville, Cleveland, Indianapolis and throughout these three states. Donating is easy and only takes a moment of your time. Just call 1-877-431-9474 to speak with a donation representative or fill out our online donation form to turn your old vehicle into so much more.

Back to Blog