Kansas City, St. Louis Walks For Wishes Help Missouri Kids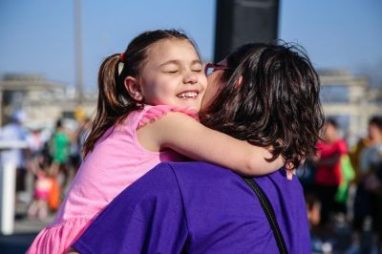 On April 18, you get a chance to help Make-A-Wish Missouri grant wishes whether you live in the eastern part of the Show-Me State, or the western. That's because the Walk & Run For Wishes in Kansas City and St. Louis, both take place on the same day!
Two Amazing Chances To Grant Wishes
No matter which side of the state you live on, you can participate in a Walk & Run for Wishes event and help to grant wishes for Missouri kids. You may even see several amazing Wish Kids at the walk! Walk & Run for Wishes events are fun for the whole family. Get your family and friends together and walk or run for Missouri Wish Kids.
The Kansas City event takes place at Sporting Park (1 Sporting Way, Kansas City, KS). This amazing event will go toward granting the wishes of over 48 local Wish Kids! Registration begins at 8 a.m., and the walk itself begins at 9 a.m. In addition to walking for wishes, guests will enjoy food, carnival games, and music.
While there is no registration fee for the Kansas City Walk for Wishes, participants are strongly encouraged to make a donation and raise $100 or more for Make-A-Wish Missouri. Earned proceeds help to grant wishes for children with critical illnesses. Register today and begin fundraising! You can also sponsor a participant, even if you are unable to make this Walk for Wishes event, or consider making a general donation to Make-A-Wish Missouri.
Prefer To Run? Participate In The St. Louis 5K
If you prefer running to walking, the St. Louis Walk & Run event may be more of interest to you. This exciting event takes place on Saturday, April 12 in Forest Park. On-site registration begins at 8 a.m. with the 5k run starting at 9 with the walk to follow. Register online for this event today! Guests will also enjoy carnival games, food, and music.
Charitable Car Donation Also Helps Make-A-Wish Missouri
If you can't attend either Walk for Wishes event or maybe you have a vehicle you no longer need, donate it to Wheels For Wishes, benefiting Make-A-Wish Missouri. Your vehicle donation will be recycled or auctioned off and the earned proceeds will help to grant the wish of a local child in your community.
To donate a vehicle, please call 1-877-431-9474 or fill out our car donation form. Your donation will grant wishes for kids in Missouri, including Springfield and northeastern Kansas, including Olathe and Overland Park! Plus, your car donation will get you a great tax deduction at tax time. Donate a vehicle today!

Back to Blog