Three Events To Help Make-A-Wish Northeast New York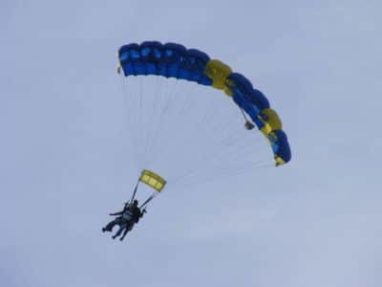 Whether you like golf, cars, barbecue or skydiving, you can take part in any of these activities while helping Make-A-Wish Northeast New York at the same time. There are great events to benefit Make-A-Wish on July 18 and July 25, so no matter your hobby, you can have a great time while helping kids with critical illnesses.
Team Dame Golf And BBQ, July 18
The annual Team Dame Golf and BBQ will be July 18 at the Mechanicville Golf Club, with a BBQ following the golf at Watervliet Hudson Shores Park Pavilion. A $65 golf ticket gets you 18 holes, a cart, welcome bag and Team Dame BBQ ticket. A $20 BBQ ticket gets you BBQ by Joe's Tavern of Cohoes, Door prizes, music, a KanJam tournament and kid-friendly activities. There will also be a raffle with exciting prizes up for grabs. For more information contact Glen at teamdame2013@gmail.com or visit www.TeamDame.org to register. All of the proceeds of the event go to Make-A-Wish Northeast New York.
Favorite Fifty Of Summer Car Show, July 18
Mustangs and Fords and all makes are welcome at the Favorite Fifty of Summer Car Show which will be held on July 18 at Brown's Ford in Johnstown. Registration is from 10 a.m. to noon. The Favorite Fifty awards are determined by participant ballot in the categories of: Mustang, all other Ford Motor Company vehicles, and all other manufacturers, plus best of show in each division and dealers pick. There will be food vendors, door prizes, music, and raffles going on all afternoon. Two dollars of each registration fee as well as all merchandise raffle proceeds will be donated to Make-A-Wish Northeast New York. Pre-registration cost is $7.00 and day-of-show registration cost is $10.00. For additional information call Wendy Brown at 518-332-1900 or email nyasmc@gmail.com.
Wish Jump 2015, July 25
An expected 40 participants, including many first-time jumpers, are raising money for Make-A-Wish Northeast New York when they jump from a plane during Wish Jump 2015. This fourth annual event will be held this year at Skydive the Ranch in Gardiner.
Volunteer wish granter Mary Kenney initially launched the idea as a fundraiser that offered a bit more adrenaline than a bake sale. Since the inception in 2011, it has drawn nearly 90 participants who have raised more than $100,000 in all. Donations can be made at www.wishjump2015.com. Expected among the jumpers are some wish teens and parents, as well as volunteer wish granters, chapter staff, and other supporters.
Can't Attend These Events? Help In Other Ways
If you are looking for another great way to benefit Make-A-Wish Northeast New York, donate a car to Wheels For Wishes, benefiting Make-A-Wish Northeast New York. Help to grant wishes for kids in Saratoga Springs, Albany or Troy. Each and every vehicle donation makes a difference!
To donate a car, which will be turned into a wish for a local child, please call 1-877-431-9474, or visit the Wheels For Wishes website. You may also fill out our easy online vehicle donation form. All donations are 100% tax deductible, so why let an unwanted vehicle take up space in your driveway or garage when you can donate it to an excellent cause? Donate a vehicle today and help to make a child's wish come true!
However you help Make-A-Wish Northeast New York, whether it's by donating airline miles to Wishes in Flight, attending one of the great events in July, or donating your vehicle to Wheels For Wishes, you help Make-A-Wish bring hope, strength and joy to northeastern New York kids when they need it most. According to the 2011 Wish Impact Study, the power of a wish extends beyond the day or week that the wish happens and it affects everyone involved in the wish-granting process. Your donation can help more children, families and communities feel that amazing impact.

Back to Blog