Hot New Game Is Centerpiece Of Make-A-Wish Gala In Dallas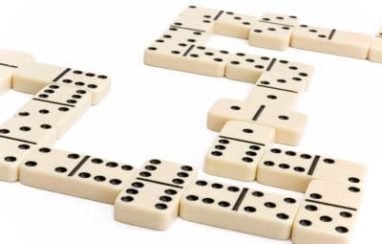 The game of dominoes goes back to the 13th century in China, but an updated version of the game has become a hit in Hollywood that has sparked new interest in the old game. Hollywood Domino is the next-generation adaptation of the classic game. Now, you can take part in this game at a star-studded night at The Empire Room in Dallas' Design District, while helping Make-A-Wish North Texas grant wishes. The Hollywood Domino Dallas fundraiser is on Saturday night, Nov. 8 and proceeds from the event benefit Make-A-Wish North Texas. The event is hosted by "High School Musical" star Vanessa Hudgens.
It offers all the fun things you remember about the traditional game of dominos but, like any great Hollywood blockbuster, a new Hollywood twist. Unique elements including the "blockbuster tile," the "stunt double," "sequels," "trilogies," and of course "Mr. Hollywood Domino." The momentum this trend has gained has seen much of the Hollywood crowd trying to get in on the act, participating and playing. League tables are cropping up and a whole new interest in Dominos is emerging.
Tickets Available Today
If seeing celebrities and taking part in this great new game sounds like a great night out, there are several ticket options available to get you into this tremendous event, and you can purchase online.
A VIP Table of 10 is $10,000 per table, or you can buy individual VIP seating for $1,000 per ticket. VIP ticketing gets you reception access, gala access, 10 VIP celebrity pre-event invitations and access to the After Party. A table of 10 is $5,000 per table, or an individual ticket is $500 each. Those options get you reception and gala access, as well as game-playing opportunities. After-Party tickets, should you want to add them, are $150 each, or $1,500 for your whole table of 10.
Can't Make It? Help Make-A-Wish In Other Ways
Make-A-Wish North Texas has granted more than 7,000 wishes since it started in 1982, and it can continue to do this when you support events like Hollywood Domino Dallas. But if you can't make this event, there's another way you can help, and it starts in your garage when you donate a car. When you donate a vehicle to Wheels For Wishes, you are turning your vehicle into wishes for children with critical illnesses in Dallas and throughout North Texas.
Plus, the process of donating a vehicle is easy. All you need to do is give us a call at 1-877-431-9474 or donate a car online using our simple donation form. We will pick up your vehicle from anywhere in North Texas and you will receive the maximum possible tax deduction for your donation.
Don't hesitate to give us a call. Even if you aren't sure how to donate a car, representatives will walk you through the car donation process and answer any questions you might have. Give us a call today and help make a wish come true for a child in your neighborhood!

Back to Blog