Go Back To School Green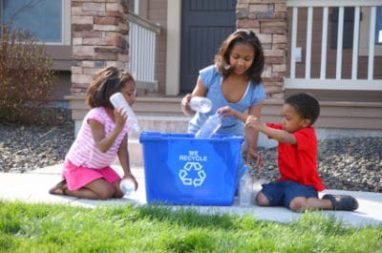 When August comes around, the end of summer is in sight. For some places, the end of summer means the beginning of cool, crisp autumn and falling leaves. For others, the weather barely changes. No matter where you live, the end of summer means the beginning of the school year—the time to go back-to-school shopping. This year, consider going back to school green. When you make environmentally conscious decisions while back-to-school shopping, you save money, save the earth and even teach responsibility to kids. Remember these simple methods while going green for the back-to-school season. 
Reuse
Your school supplies from last year still work! Before you go to the store, take an inventory of all the school supplies you have from years prior. Students almost never go through all of their art supplies. Glue sticks, crayons, rulers, etc. are almost always left over, and should be reused. Making this inventory will save you money while also saving the earth by not wasting supplies.
When it comes to clothing, reuse is also the way to go. Reduce the negative impact that clothing production has on the earth by purchasing the clothes that already exist. Plenty of thrift stores have the styles you are looking for. Plus, the price is lower!
Use Green Supplies
When you determine which supplies you will need after taking inventory, consider purchasing sustainable school supplies. The biggest rule here is to avoid plastic. Pens, pencils, paper, crayons, backpacks, water bottles, lunch baggies and lunch boxes are all examples of supplies that can last a long time. Instead of buying 100 plastic pens, buy one nice refillable pen made from recycled materials. They write better, they feel better on your hand and they save the earth.
Buy recyclable pencils and paper, glass or metal water bottles, organic lunch bags and food baggies and safe crayons that don't use petroleum. When you make these permanent sustainable changes, you will save a lot of money down the road and save the planet.
Green Transportation
Stop driving to school. If you are in walking or biking distance from school, find a group of walkers or bikers and safely travel to school while saving the environment. If you decide against driving every day, your carbon footprint will be drastically reduced and you will have a lot of extra money.
When you no longer have use for your car, donate it! Donating your car to Wheels For Wishes, a nonprofit 501(c)(3) organization, not only helps you save space, but it also helps to save the environment while the proceeds benefit children's charities.
Wheels For Wishes also provides free towing and a great tax deduction. Call 1-877-431-9474 or fill out an online donation form today to benefit children's charities and go green! 

Back to Blog