Find Your Happy Pace At A Walk For Wishes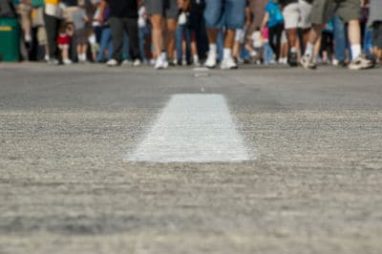 This February, there are two Walk For Wishes events you can attend to help Make-A-Wish Southern Florida. The Broward Walk For Wishes is Feb. 4 and the Collier/Lee Walk is Feb. 25. Together, these two walks raised enough money to grant 66 wishes last year! Help make the 2017 walks an even bigger success by getting involved this February. 
Feb. 4: Broward Walk For Wishes
The 8th Annual Broward Walk For Wishes takes place at Markham Park (16001 W. State Road 84) in Sunrise. The event will feature the option to do a 5k walk or run through the park. Registration kicks off at 7:30 a.m. and the event starts at 8:30. The event will wrap up around 11 a.m. The best part of the walk is that you can bring the whole family—even the dog!
If you register ahead of time, the fee is $25 for adult walkers and $30 for adult runners. Register your children ahead of time for $10 if they're walking or $15 if they run. On the day of the event, the fee increases by $5 for all brackets. If you register by Jan. 20, you'll receive a Walk For Wishes t-shirt to wear at the walk!
Those who register in advance can pick up their walk packets, t-shirts and race bibs on Feb. 2 at Runners Depot in the Weston Country Isles Plaza. Pick-up time is from 11 a.m. to 7:30 p.m.
Feb. 25: Collier/Lee Walk For Wishes
Similar to the Broward Walk, the Collier/Lee walk will have the option of a 5k walk or run. This event takes place at the Florida Gulf Coast University Recreation Field (10501 FGCU Blvd. South) in Fort Myers. Registration on the day of the event begins at 7:30 a.m., followed by the walk kicking off at 8:30.
Registration to walk or run is $25 for adults, $15 for all students and $10 for children. Pets are not allowed at the Collier/Lee walk. Those who register by Feb. 3 will receive a Walk For Wishes t-shirt guaranteed in their size! 
Walk Or Donate To Help Make-A-Wish Southern Florida
For registration details, check out the Make-A-Wish Southern Florida
event page
. Walking is a fun way to help your local chapter grant wishes, but if you can't make it we have another easy way for you to make a difference. All you need to do is a vehicle to
Wheels For Wishes
to help fund more wishes for Make-A-Wish Southern Florida! Wheels For Wishes is a
tax-deductible car donation program
that also provides you with
free towing from anywhere
in Florida.
If you have a car to donate, just give Wheels For Wishes a call at 1-877-431-9474 or fill out an
online car donation form
today!

Back to Blog