Two Events In Central Florida To Help Grant Wishes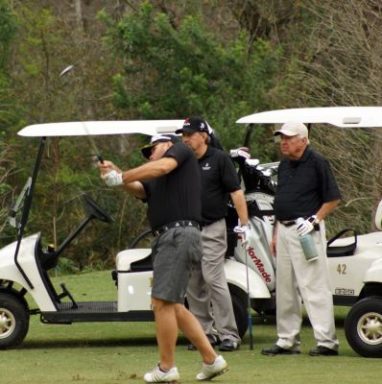 Whether you like to be on the golf course or eat a great meal, you can do either – or both! – in February to help benefit Make-A-Wish Central and Northern Florida.
Wedges For Wishes, Feb. 16
Maybe you're off work for President's Day. If you are, sign up for Wedges For Wishes at the Avila Golf & Country Club (943 Guisando de Avila) in Tampa. This year is the 6th annual tournament. This year, Make-A-Wish Central and Northern Florida is hoping to raise $80,000 – enough money to provide more than 11 wishes for children who are suffering with a critical illness. Since the Wedges for Wishes golf tournament's inception, it has contributed to 40 wishes and has secured over $280,000. Be a part of this memorable experience.
This year's event begins at 8:30 a.m. with registration, a light breakfast and a Bloody Mary bar. Golf begins with a 9:30 a.m. shotgun start with snacks and beverages served during the round. At 1 p.m., there is a post-golf reception where golfers can meet a family whose life was impacted by Make-A-Wish.
Registration is underway at the event's website. Individual player registration is $375 per person or $1,500 for a foursome. You can upgrade to a Wish Foursome for $2,500, which includes four Nike tournament polo shirts, a team Super Ticket, upgraded golfer swag bags, a private driving range, upgraded lunch and more. The pre-tournament Super Ticket for your foursome is $200, and includes six raffle tickets, two mulligans, three putting contest tries. An individual Super Ticket is $55.
Cooking For Wishes, Feb. 26
Michael's On East (1212 SE Ave., Sarasota) is the host for the fifth annual Cooking For Wishes, the signature event and largest fundraiser for the Sarasota Region of Make-A-Wish Central and Northern Florida.
Guests will prepare a four course meal, led by the talented Jamil Piñeda, executive chef at Michael's On East. The lunch will also include a live auction. This event sells out every year with more than 200 guests. The cook-off begins at 11 a.m. and promises to be a festive day of cooking, fun and fundraising!
Tables of 8 are $1,200 and individual tickets are $150. All funds raised from the event support Make-A-Wish Central and Northern Florida. For more information, contact Rebecca Blitz or visit www.cookingforwishes.com.
Let Your Unwanted Vehicle Help Grant Wishes
You can help Make-A-Wish Central and Northern Florida continue to grant the wishes of deserving children living in Orlando, Saint Petersburg and Jacksonville and all over Make-A-Wish Central and Northern Florida. If you can't make either event in February, you can still help grant wishes. If you have an unwanted vehicle taking up space in your driveway, garage, or shed, consider donating your car to Wheels For Wishes, benefiting Make-A-Wish Central and Northern Florida. Your vehicle will be recycled and reused to build new vehicles, and the earned proceeds will benefit Make-A-Wish Central and Northern Florida.
Donate a vehicle today and get rid of a vehicle in an easy and hassle-free way. But most importantly, let your vehicle help grant wishes. To donate, please call 1-877-431-9474 or fill out an online donation form. 

Back to Blog