How Extra Frequent Flyer Miles Can Make A Wish Come True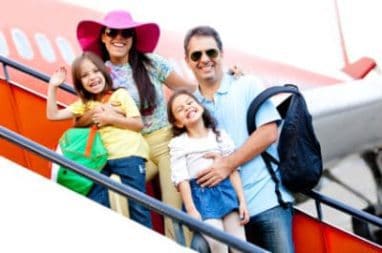 When a child has a wish come true thanks to Make-A-Wish, kids often pick something close to home. Maybe a child from Dallas wants to get an up-close experience with the Dallas Cowboys, or a child from Portland, Ore., wishes to spend an afternoon with the Portland Timbers soccer team. However, those wishes are in the minority.
In fact, 74 percent of all wishes granted involve travel, which means flying the Wish Kids – and their families – to the destination they wish to visit. This is why Make-A-Wish has their Wishes in Flight program.
Make-A-Wish relies on frequent flyer miles to help Wish Kids and their families travel to their destinations. One way to help is to donate your frequent flyer miles to Make-A-Wish. Donated miles never expire and you can help transform the life of a child with a critical illness.
Simply fill out a frequent flier donation form for Delta, United, or US Airways, and your miles will be donated to support the Wishes in Flight program. Continental OnePass miles are accepted through United Mileage Plus. JetBlue's reward program, TrueBlue, allows members to turn reward points into dollars and donate to their charity of choice, including Make-A-Wish.
You can also help by:
Hosting a drive for frequent flier miles at your workplace
Asking your employer to donate miles
Hosting a banner or badge on your blog or website
Frequent Flyer Miles Can Benefit Kids?
YES! Donating your miles can give Wish Kids an opportunity to make their dreams come true. Airline tickets are one of the biggest expenses for Make-A-Wish, so every mile that can be donated can help the other dollars create a once-in-a-life time experience for a child who needs it.
Make-A-Wish needs around 2.5 billion miles each year to cover the 50,000 round-trip tickets needed for local children each year. Your donation of frequent flier miles can make a local child and their family very thankful.
Send A Child On A Dream Vacation Anyways
If flying isn't for you – certainly plenty of people aren't fans of air travel – that means you might not have miles to donate. That's OK: You can still help make a local child's wish come true by making a vehicle donation through Wheels For Wishes benefiting Make-A-Wish.
Donating a vehicle will not only save you time and money that you would otherwise spend on getting rid of an unwanted vehicle, but the vehicle will be transformed into a wish for a local child and gives you a great tax deduction at the same time. Wheels For Wishes is an IRS–registered 501(c)(3) non-profit organization, and your donation is 100% tax deductible. Your car can make a wish come true! However, unlike your vehicle donation, gifting miles are not tax deductible, according to the IRS.
To donate a vehicle to Wheels For Wishes, please call us at 1-877-431-9474, or fill out our easy online vehicle donation form. You will feel great about what your unwanted car can do for a local child!
If your vehicle can't take you to your dream destination, you can donate it to Wheels For Wishes and we could turn it into airline tickets for a local child needing to travel. You can be sure that your used vehicle will become so much more for a local child.

Back to Blog