Attend Wishes In Wine Country Or Concours D'Elegance To Help Make-A-Wish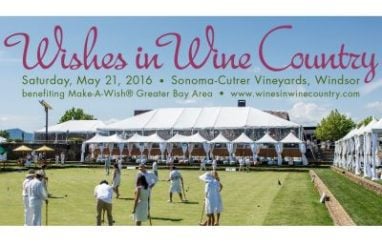 Make-A-Wish Greater Bay Area has two fun events coming up that you can attend: the San Jose Country Club Concours D'Elegance on May 15 and Wishes in Wine Country May 21. If you love cars or wine, these events are perfect for you! 
Get Ready For Concours D'Elegance May 15
For a day of cars, champagne, BBQ and music, don't miss the 6th Annual Concours D'Elegance benefiting Make-A-Wish Greater Bay Area. The car show takes place at the San Jose Country Club (15571 Alum Rock Ave.) starting at 11 a.m. If you have a car you'd like to enter, registration is available on the event website until May 12.
Registration is $70 per person and includes free parking, appetizers, champagne, a wine tasting, dinner, live music and an awards ceremony for the top-placing cars. Get your tickets online today to take part in this fun event!
Wishes In Wine Country Is May 21
Sonoma-Cutrer Vineyards and the surrounding wineries have some of the best wine around. If you've never sampled the area's wine, Wishes In Wine Country is your chance to try wine from 40 local wineries and restaurants all in one location.
On May 21, Wishes in Wine Country kicks off with the Grand Tasting from 2 to 5 p.m. Not only will you get to try delicious local wines, you can also play a leisurely round of croquet at the vineyard's pristine lawns. Wishes in Wine Country will also feature a silent auction. The event attire is "croquet whites" with a pop of color encouraged. The best dressed will be in the running to win the event's "pop of color" fashion contest.
Tickets for the Grand Tasting are $150 each and can be purchased on the event website. The best part is, proceeds from your ticket sale benefit Make-A-Wish Greater Bay Area.
The Grand Tasting is a great way to spend a Saturday afternoon trying some of the area's best wine. However, the day doesn't have to end there. For the full experience, you can purchase a Sunset Dinner ticket for $300. This portion of the event includes a three course dinner on the winery terrace with local food and wine parings from Sonoma-Cutrer. In addition to dinner, guests will also have the chance to bid on vacation packages, tickets to live TV shows and other great auction items. Purchase your Sunset Dinner ticket here.
Donate Your Car To Help Make-A-Wish Greater Bay Area
Another great way to help grant wishes this spring is to donate a car to Wheels For Wishes benefiting Make-A-Wish Greater Bay Area. Car donations are tax deductible, and you also receive free vehicle towing from anywhere in the Bay Area and the rest of California.
To donate your car, truck, boat, RV or motorcycle, simply use our online car donation form or call us at 1-877-431-9474. 

Back to Blog