Clean Up Your City On Carl Garner Federal Lands Cleanup Day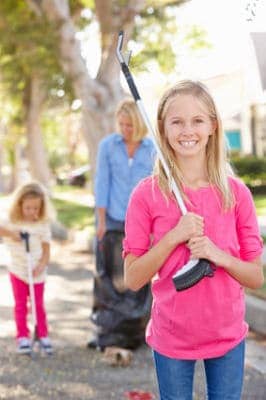 What better way to kick off the new season than to clean up the city you live in? Carl Garner Federal Lands Cleanup Day is a day devoted to encouraging citizens of the United States to clean up their federal lands. Occurring on the first Saturday after Labor Day, Sept. 7 will be the perfect day to get the family together and make a difference in the community you live in. Stop by nearby national parks or national wildlife refuges and help to keep them clean and green.
Give Back To Your Community
In 1985, the Federal Lands Cleanup Act recognized Carl Garner Federal Lands Cleanup Day as the "Federal Lands National Cleanup Day," but changed the name in 1995 to honor Carl Garner for his cleanup efforts in Arkansas. Consisting of programs, ceremonies, and activities, the holiday is now celebrated all over the United States.
At Wheels For Wishes, keeping the world clean and green is extremely important to us. Recycling and reusing is what we do, so we encourage you to get out in your community and make a difference on this important holiday. If you don't volunteer to keep your city clean, who will?
Find A National Park or Wildlife Refuge
National parks and wildlife refuges are places that often get left out when citizens complete city-wide cleanups. This is the perfect time to get involved and clean up those areas that are often forgotten! According to the National Park Foundation, there are 401 national parks from coast-to-coast, which puts every American less than 100 miles from a national park. Search for a national park in your area and get a group of family and friends together to keep it clean on Sept. 7. To find a National Wildlife Refuge in your area, please visit the U.S. Fish & Wildlife Service website.
Clean Out Your Garage
If you are unable to partake in Carl Garner Federal Lands Cleanup Day on Sept. 7, maybe you will be getting some chores done around the house instead. Making space in your driveway, garage, or shed could be one of those tasks. If you have a vehicle taking up space in your driveway, garage, or shed, consider getting rid of that unwanted vehicle and putting it to better use. By donating your automobile to Wheels For Wishes, you are recycling your vehicle while also helping to grant wishes for local kids at the same time. Plus, you'll get a great tax deduction for your vehicle donation to charity. It can't get much better than that.
To donate a vehicle, please call 1-877-431-9474 or fill out our easy online vehicle donation form. You won't regret it! Not only will you be getting rid of a vehicle in the easiest way possible, but you will be recycling your vehicle and contributing to the green movement. Car donation is something you can feel proud about supporting.

Back to Blog