Join Make-A-Wish Greater Los Angeles At The 9th Annual Walk For Wishes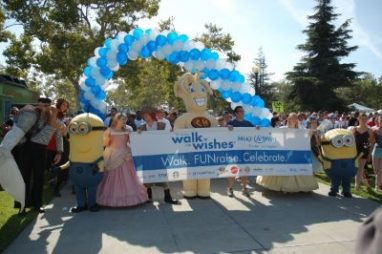 Make-A-Wish Greater Los Angeles has granted more than 9,000 wishes over the years. On April 23, you can help celebrate all those wishes while raising funds to grant even more in the future. The walk will include a 2-mile loop around Exposition Park, followed by a day of family activities you won't want to miss. Whether you come with a corporate team, a group of friends, your family, or just yourself, the walk is sure to be a great time for everyone!
Registration And Walk Details
Parking is available for $15 at the nearby Los Angeles Coliseum (corner of Figueroa Street and W 39th Street). Please come with cash, as cards are not accepted at the parking lot the day of the event.
Those who want to get a head start can register on the event website for $35. Registration is also available the day of the event for $40. If you plan to register the day-of, you can do so starting at 7:30 a.m. at Exposition Park (700 Exposition Park Drive).
Following on-site registration, everyone can enjoy the Opening Ceremony at 8:30. The walk kicks off at 9 a.m., looping around the Natural History Museum, Rose Garden, California ScienCenter and other attractions in the park. After the walk, stick around for family activities, music, raffle prizes, food trucks and a silent auction. The post-walk festival also gives you the chance to meet local Wish Families and learn more about the four categories of wishes: to be, to have, to go and to meet.
Work Towards Great Fundraising Incentives
Individuals and teams who want to support the walk even more can receive several great fundraising prizes. Individuals who go above and beyond can win items such as a Make-A-Wish keychain, Walk For Wishes t-shirt, mobile phone charger, Bluetooth headphones or other great prizes. Check out all of the awards for individuals here.
Teams can strive raise more than $1,250 for a place on the Wall of Fame, $5,000 or more for a professionally-shot and framed team photo, or $10,000 or more to Adopt-A-Wish in your team's name.
3 Other Ways To Help Make-A-Wish Greater Los Angeles
Those who can't attend the walk can still help Make-A-Wish reach their wish-granting goals this spring. You can contribute directly to other walk participants by donating to their fundraising goal. General donations for the Walk For Wishes are accepted as well. 
You can even help Make-A-Wish Greater Los Angeles with a car donation when you donate to Wheels For Wishes. Our program auctions and recycles donated vehicles and the proceeds from their sale help fund more Los Angeles-area wishes.
To donate your car, please call 1-877-431-9474 or use our online car donation form. We offer free towing and the maximum possible tax deduction for donating your car to charity. If you have an unwanted car, truck, boat, RV or motorcycle, donate it today to help Make-A-Wish Greater Los Angeles grant more wishes!

Back to Blog