3 Galas To Benefit Make-A-Wish Iowa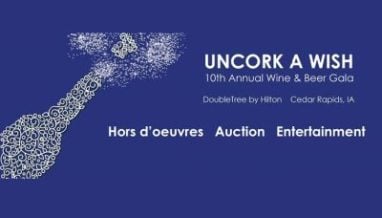 In the first few months of 2017, Iowans have three chances to attend a gala for Make-A-Wish Iowa. If you're from, Dubuque, Davenport or Cedar Rapids, a gala is taking place right in your city. These can't-miss galas include the Riverbend Gala on Feb. 4, The Dubuque Gala on March 25 and the Uncork A Wish Wine & Beer Gala on April 28. 
Feb. 4: Riverbend Gala
Make-A-Wish Iowa's 2017 Riverbend Gala is taking place Feb. 4 at the Waterfront Convention Center (2021 State Street) in Bettendorf. This year's theme is Fire and Ice. The Riverbend Gala is Make-A-Wish Iowa's largest event of the year and you can be a part of it! Tickets are just $95 per person or you can reserve a table of 8 for $750. Additional donations are also welcomed. To purchase tickets or inquire about sponsorships, contact Paula Cockrell.
The evening begins at 5:30 p.m. with cocktails and a silent auction. At 7:30, a delicious sit down dinner will begin, along with a program and live auction. After dinner, the dance floor will open up. If you plan on making a whole night of the event, book a room at the Isle of Capri Bettendorf hotel for a discounted rate. Book before Jan. 21 to take advantage of the room discount!

March 25: Dubuque Gala
This year's Dubuque Gala will have a fun flair with its 1940s Casino Night theme. The event takes place at the Grand River Center (500 Bell Street) in Dubuque. This gala will have live music from the local Main St. Jazz group. Guests will enjoy a complimentary cocktail hour beginning at 5 p.m. Afterwards, dinner, dancing, entertainment and a live auction will follow. The auction will use an easy online bidding format, so be sure to bring a fully-charged smart phone in order to bid.

April 28: Uncork A Wish

Help Make-A-Wish In 2017

Back to Blog