Take A Cold Dip In The Atlantic Ocean To Benefit Make-A-Wish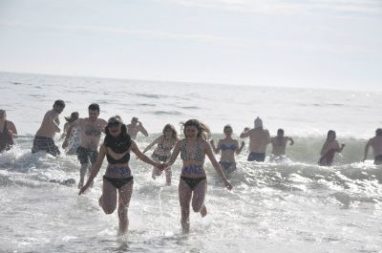 A dip in the Atlantic Ocean is fun if it's the summer. But off Long Beach, N.Y., in February? Not most people's idea of a good time, but the Long Beach Polar Bears don't care – after all, they've been doing it for 16 years.
Kevin McCarthy and Pete Meyers decided it would be fun to jump into the Atlantic Ocean for a quick dip before the Super Bowl in 1998. As stories got out about how much the duo enjoyed it, Mike Bradley asked to join in prior to the 1999 game. They readily agreed, and Mike brought along his brother, P.J. Bradley, to join in the swim.
Beyond a frigid dip in the Atlantic, Mike Bradley, and his wife, Patti, were looking for a memorial for their son, Paulie. P.J. had asked Kevin and Pete if the annual Polar Bear Swim could be a fundraiser for Make-A-Wish Metro New York and Western New York, and the founding duo enthusiastically agreed. Feb. 1, prior to Super Bowl XLIX, the Long Beach Polar Bears Super Bowl Splash will again take place where Riverside Boulevard meets the Atlantic Ocean.
Registration Available Prior To The Plunge
Registration starts at 12:30 p.m. with the jump at 1:30. There is no charge to take part, but participants are encouraged to raise much needed funds for Make-A-Wish Metro New York and Western New York. You can register online, and if you can't make it, you can sponsor a jumper, or make a general donation to the event.
Make-A-Wish Metro New York and Western New York touches the life of a child diagnosed with a critical illness every 10 hours, which makes events like the Long Beach Polar Bears Super Bowl Splash so important.
Can't Attend? Donate Vehicle To Benefit Make-A-Wish
Maybe a plunge in the cold waters of the Atlantic Ocean isn't for you, but a way to help Make-A-Wish and yourself with a tax deduction may be as close as your garage. Donate your unwanted vehicle – car, truck, SUV, motorcycle and even a boat or RV to Wheels For Wishes benefiting Make-A-Wish Metro New York and Western New York.
Making a car donation is free. Plus, your donation is 100 percent tax deductible! Just give us a call at 1-877-431-9474 or use our easy online donation form. We pick up vehicles from all five boroughs – Bronx, Brooklyn, Queens, Manhattan, and Staten Island – so you don't have to do any extra work to get rid of your unwanted car.
We can even take your car if it isn't running. We will pick up your vehicle at no cost to you, then provide you with your maximum tax deduction. We can take your vehicle whether it is running or not. Save some time and stress by donating your car today. Selling a car can be a hassle, and expensive. Making a donation is easy, so don't wait to donate! Cars, trucks, RVs, SUVs and even boats can be accepted through our nonprofit car donation program.

Back to Blog