Cornhole Tournament Helps Raise Money For Make-A-Wish Eastern NC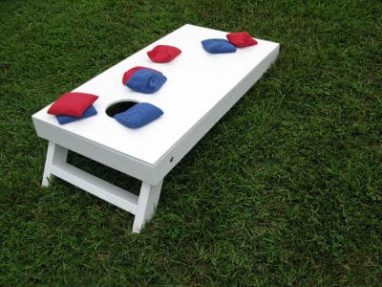 Make-A-Wish Eastern North Carolina has a new fundraiser next month that takes a popular picnic and tailgate-party game, and turns it into an opportunity to help grant wishes for North Carolina children.
The Triangle-area's first Pitchin' For Wishes cornhole tournament benefits Make-A-Wish Eastern North Carolina. The family-friendly event is set for Sept. 13 at Midtown Park in North Hills, Raleigh. Pitchin' For Wishes has helped raise more than $500,000 for various charities nationwide, and holds the Guinness World Record for the largest cornhole tournament.
Registration Now Available
If you're interested in playing in the Raleigh event, the registration fee for a two-person team is $50. The first-place team wins $750, the second-place team wins $250, and every participant gets a T-shirt. Teams face-off in an NCAA Tournament-style bracket competition. If you prefer to watch, Pitchin' for Wishes is free for spectators and offers activities for all ages.
Register online at the event's website, where you can also make a general donation to the event or sponsor a participant.
There are also sponsorship opportunities available – Gold ($1,000) Silver ($750) and Bronze ($500). If you are interested in sponsoring, contact Christian McCall with Andrew Roby (Christian.Mccall@AndrewRoby.com or (704) 401-0671) or Erica Hinkle with The Select Group (Erica@theselectgroup.com or (919) 459-1049).
Make-A-Wish grants the wishes of local children with critical illnesses to enrich the human experience with hope, strength and joy. In 2014, Make-A-Wish Eastern North Carolina will grant the wishes of 200 children, but there are an additional 200 children within our community still waiting for their wishes to be granted. At an average cost of $7,500 per wish, they need your help to make each one a reality.
Help Make-A-Wish Grant Wishes
If you aren't able to take part in Pitchin' For Wishes, there are other ways to support Make-A-Wish Eastern North Carolina. Consider donating a car to Wheels For Wishes, benefiting Make-A-Wish Eastern North Carolina. When you donate a car to the Wheels For Wishes car donation program, you can help make wishes come true just by donating an unwanted car, truck, boat, motorcycle, or camper. Each vehicle donation is tax-deductible and contributes to the green movement, so your donation is kinder in more ways than you could ever expect.  
Donate your unwanted vehicle today and receive free pick-up or towing of your vehicle, whether it runs or not. Your vehicle will be transformed into a wish for a child in the eastern regions of North Carolina, including Fayetteville, Wilmington, and Durham. Your donation helps you to dispose of a vehicle in an easy and eco-friendly way, but it also helps to grant the wish of a local child.
Let your unwanted vehicle leave a positive impact on a Wish Kid in North Carolina. Your vehicle is worth more than you could ever imagine – call us today at 1-877-431-9474 or fill out an online donation form and feel great about making a difference in the life of a Wish Kid.
If you want to learn more about how your donation can help, read about the positive impact of a wish to a Wish Kid and their family.

Back to Blog