Cigars & Wine Highlight 8th Annual Night Of Exquisite Tastes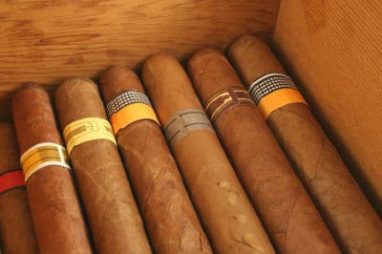 If a night of drinking fine wines and enjoying a selection of premium cigars is your kind of night, then the Make-A-Wish Northeast New York's 8th Annual Night Of Exquisite Tastes fundraiser is one you don't want to miss. This fantastic event is on Friday, Sept. 26 at the Mohawk Golf Club (1849 Union Street) in Schenectady. The event is put on in partnership with Park-Lane Tobacconist of Clifton Park and Edleez Tobacco of Albany. Cocktails begin at 6 p.m.
This fundraiser has it all! In addition to the wine and cigars, there will be gourmet foods to help make this an evening not to be missed. In addition, there is also a silent auction with a wide range of items donated by event sponsors and local businesses. This event is a perfect networking opportunity, or simply enjoy a relaxing evening out with family and friends.
Tickets Are Still Available
Tickets are $150 for food, drinks, and cigars, and a guest ticket is available for $75 which includes food and drinks, but no cigars. Proceeds from the event help support Make-A-Wish Northeast New York's wish-granting program. Last year's event drew nearly 275 guests and brought the total amount raised in the event's history to over $300,000.
Guests will also have the opportunity to hear from a Wish Teen, and proceeds from the event will help to fund some of the 100 or so wishes that the chapter grants each year. You can register on the event's website. For more information on this annual event, or to be a sponsor, please contact Kirsten Broschinsky at 518-782-4673.
Help Make-A-Wish In Other Ways
If you are looking for another great way to benefit Make-A-Wish Northeast New York, donate a car to Wheels For Wishes, benefiting Make-A-Wish Northeast New York. Help to grant wishes for kids in Saratoga Springs, Albany or Troy. Each and every vehicle donation makes a difference!
To donate a car, which will be turned into a wish for a local child, please call 1-877-431-9474 or visit the Wheels For Wishes website. You may also fill out our easy online vehicle donation form. All donations are 100% tax deductible, so why let an unwanted vehicle take up space in your driveway or garage when you can donate it to an excellent cause? Donate a vehicle today and help to make a child's wish come true!
However you help Make-A-Wish Northeast New York, whether it's by donating airline miles to Wishes in Flight, attending the Night Of Exquisite Tastes or donating your vehicle to Wheels For Wishes, you help Make-A-Wish bring hope, strength and joy to Northeastern New York kids when they need it most. According to the 2011 Wish Impact Study, the power of a wish extends beyond the day or week that the wish happens and it affects everyone involved in the wish-granting process. Your donation can help more children, families and communities feel that amazing impact.

Back to Blog