Fall Trailblaze Challenge Offers Great Hike, Help To Make-A-Wish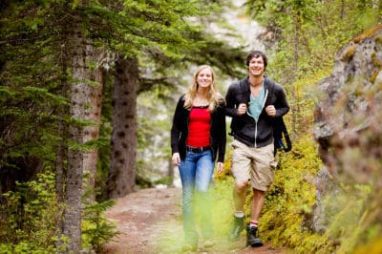 Seeing the fall leaves in the foothills of the Appalachian Mountains is one of the great pieces of sightseeing in North Carolina. Thanks to Make-A-Wish Central and Western North Carolina, you can get an up-close look at all the Appalachian Foothills Trail, all while helping grant wishes to children with critical illnesses.
On Saturday, Oct. 11, Make-A-Wish Central and Western North Carolina will hold its 1st Fall Trailblaze Challenge, a hiking experience on the Appalachian Foothills Trail. The 28.3 mile trek in one day provides participants an opportunity for adventure, fun and fitness while making a direct impact on the lives of children.
The Foothills Trail takes hikers across 28.3 miles of this North and South Carolina based trail. The landscape is diverse, taking hikers through high, rocky terrain with great views, to quiet, forest paths full of wildlife sightings. This particular part of the trail will commence at Upper Whitehall Falls which descends into the Chattooga River gorge leading to Sloan Bridge and Burrell's Ford Road. The next part of the trail leads you along the Chattooga River, briefly intersecting the Bartram Trail and takes you to Cheohee Road. From this point, it's a short 6-mile trek to finish at Oconee State Park in South Carolina. If you want a shorter option, a 16.4 mile hike will start at Burrell's Ford Road.
Located near the borders of North Carolina, South Carolina and Georgia, the Appalachian Foothills Trail spans a 76-mile-long section of the Appalachian Mountains. It is well known for recreational hiking and backpacking. It passes through the Sumter National Forest, Ellicott Rock Wilderness, Whitewater Falls and Lake Jocassee.
Register For The Fall Trailblaze Challenge Today
On the event's website, you can register for the challenge, sponsor another hiker or help sponsor the event. Included in registration, you get:
Specialized training program including a workout calendar and bi-weekly group hikes
Training clinics on hiking boots, socks and other trail essentials, hydration and nutrition, and cross training
Support and coaching from experienced Hike Leaders and Make-A-Wish staff
Trailblaze Challenge dri-fit shirt for hike weekend
Friday night pasta party to carb load before the big day 
Transportation to and from the trail on Hike Day
Trail support at multiple locations throughout your journey, including hydration, snacks, first aid, encouragement, and much more
Saturday evening post-hike celebration to share trail stories
Sunday post-hike recognition breakfast before heading home
Hotel accommodations on hike weekend will be at the Holiday Inn Express and Suites in Lavonia, Ga., for three days and two nights from Oct. 10-12.
Not A Hiker? Help In Other Ways
Another way to help Make-A-Wish Central and Western North Carolina is to make a car donation to Wheels For Wishes benefiting Make-A-Wish Central and Western North Carolina.
Wheels For Wishes accepts vehicles in any condition so Make-A-Wish can continue to grant wishes for local kids in your community. Donate a car, truck, SUV, RV, motorcycle, or boat, and help turn your unwanted vehicle into a wish come true.
To donate a vehicle to Wheels For Wishes, benefiting Make-A-Wish, please call 1-877-431-9474 or fill out our easy vehicle donation form. You won't regret it!

Back to Blog