Two Bike Events Benefit Make-A-Wish Greater Pennsylvania & West Virginia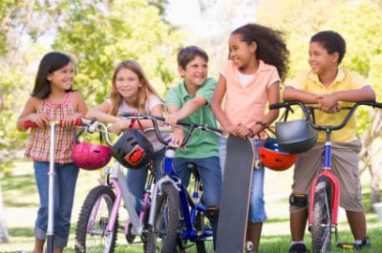 Whether you like bicycling or motorcycling, you can do what you love while helping Make-A-Wish Greater Pennsylvania and West Virginia. Krista's Bike Event takes place July 12 and Zack's Make A Move for Make-A-Wish takes place July 26. Both events help Make-A-Wish Greater Pennsylvania and West Virginia grant more wishes for kids in places like Allentown, Scranton, Erie, Pittsburgh and everywhere in between.
Join Krista's Bike Event July 12
On July 12, come out to Krista's 16th Annual Bike Event, which features a poker run and lots of fun all day long. The poker run starts at St. Boniface Ushers Club (6941 Wattsburg Road) in Erie, and ends at the Mound Grove Golf Course (10760 Donation Road) in Waterford. Once you get to the golf course, the activities continue with a Chinese auction, 50/50 raffle, and cash bar. There will also be a motorcycle and car cruise-in.
Participation for the Bike Event is just $10 per person. Please contact Bob at 814-323-3939 or Jill at 814-602-8530 for more information about this great event.
Get Ready For Make A Move On July 26
The Zack's 4th Annual Make A Move for Make-A-Wish event takes place July 26 at the North Park Boat House (10301 Pearce Mill Road) in McCandless, Penn. This event was started by Wish Kid Zack, who had his wish granted in 2005. Since his wish had such a big impact on him, he wanted to help make more wishes possible for other kids facing critical illnesses. Make A Move for Make-A-Wish is the result of that!
Zack's event includes a 5-mile run, walk and bike race through North Park. Racers will receive an electronic timing bib, and prizes will be awarded to the top male and female participant in each age group and category. Following the race, stick around the park for entertainment from Bryan Brunsell, as well as a fun Chinese auction. Refreshments will be available from Panera Bread and Eat 'n' Park.
Registration for the race is $25 for adults and $15 for kids ages 5-12. Pre-registered racers also will receive a t-shirt while supplies last. Please contact Natalie Abel at natalie.abel@hotmail.com or 412-370-5070.
Help Grant Wishes With Your Vehicle Donation
If you can't make it to either of these events, another easy way to help grant wishes is by donating your car. A vehicle donation to Wheels For Wishes benefiting Make-A-Wish Greater Pennsylvania and West Virginia is tax deductible, and it helps Make-A-Wish reach more children facing critical illnesses.
Wheels For Wishes accepts most makes and models of vehicles, including cars, trucks, boats, RVs, motorcycles and more. Your vehicle doesn't even need to run in order for us to accept it as a donation. Plus, we offer free pick-up or towing of your vehicle from nearly anywhere in the U.S.
To make a car donation, please call 1-877-431-9474 or fill out a car donation form online. Every car donation makes a positive difference for kids in your community!

Back to Blog