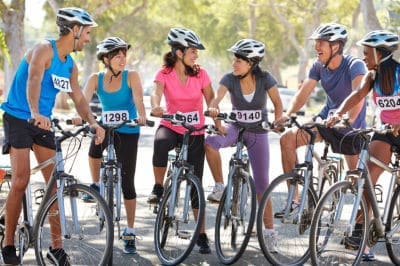 Join Oyster - The Race To Grant Wishes For Make-A-Wish Colorado
On July 25, you won't want to miss the annual Oyster race taking place in downtown Denver. This urban adventure race features a new secret course each year, making it a fresh challenge each time. Whether you're on your own or with a team of friends, you'll have a blast biking, running, and walking through the city completing a series of obstacles, puzzles, and other challenges. Best of all, the event benefits Make-A-Wish Colorado and helps them grant more wishes for local kids. Register today to claim your spot!
Oyster Race Details
Oyster - The Race has something for all skill levels to enjoy. If you're looking for the most athletic experience, grab a partner or make a team of four to register for the Full Course. This course lasts 4 to 6 hours and covers 20 to 30 miles, done on foot and bike.
The Half Course is a more mild challenge, lasting 2-to-3 hours and covering between 10 and 15 miles. Only teams of two, not four, can participate in the Half Course. Both courses offer a wide variety of exciting tasks and challenges.
Registration is currently $95 for the Half Course and $105 for the Full course if you register before June 30. The fees each increase by $10 after July 1, so don't wait to register!
Teams and individuals can check in prior to the event on Friday, July 24, at Dick's Sporting Goods, Belmar (7313 W Alaska Drive, Belmar, Lakewood, Colo.) from 4-7 p.m. Participants can also check in on race day at the race's Transition Area, located at the Downtown Aquarium Parking Lot (700 Water St.) in Denver. The Transition Area opens at 6:30 a.m., and registration is open until the race begins at 8.
Race Day Adventures
You never know exactly what Oyster - The Race will offer, but that's the fun! Challenges might include bowling, rock climbing, water challenges (no swimming), eating, trivia, bowling, or golfing.  
You'll also want to come with the required equipment such as a bicycle and helmet, running shoes, comfortable race clothes, and a cell phone. Having a pen and some cash on you might come in handy as well! The event organizers also recommend bringing a change of clothes, a backpack, water bottle, and sunscreen. Check out all of the course information and reminders on the event website so you're prepared for the day.
Raise Funds To Help Make-A-Wish Colorado
Oyster - The Race is full of opportunities to have fun, but it's also a great opportunity to help make wishes come true for Colorado kids! Make-A-Wish Colorado is the charity partner of Oyster - The Race, and you can get some great race incentives for fundraising. All fundraising goals are achieved as a team, not individually.
Each team is required to raise $30 to participate in the race. Exceeding that goal will give you a leg up on other racers! Some of the incentives can include getting to skip the hardest puzzle, jumping to the front of the line, or getting a helpful course clue. Check out the fundraising levels here to get motivated.
Donate A Vehicle To Help Make-A-Wish Colorado
If an urban adventure race isn't for you, you can still help make wishes come true this summer! Donating your unwanted car, truck, boat, RV or SUV to Wheels For Wishes, benefiting Make-A-Wish Colorado will help them grant more wishes for kids throughout the state. Your car will be auctioned or recycled, with the proceeds benefiting your local Make-A-Wish.
We Make It Easy To Donate A Car
Wheels For Wishes accepts nearly all cars in any condition. Your vehicle doesn't even need to run in order to help Make-A-Wish! We offer free pick-up and towing, and you also receive a great tax deduction. To donate, just give us a call at 1-855-278-9474 or fill out our online car donation form. Your donation will help Make-A-Wish Colorado grant wishes in Colorado Springs, Aurora, Boulder, Fort Collins, and all over the state!