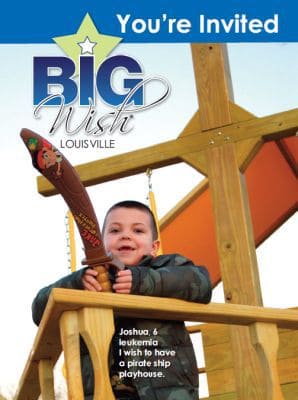 Do Not Miss The Make-A-Wish - BIG Wish Gala In Louisville
If you are looking for an opportunity to help local kids in Louisville, this is your chance! Make-A-Wish Ohio, Kentucky & Indiana is hosting their BIG Wish Gala at the Marriott in Downtown Louisville (280 W. Jefferson St.). Don't miss out on a fabulous dinner, live and silent auction, surprises, and most importantly, wish granting for Kentucky kids!
A Night Where Wishes Will Come True
Thursday, August 1 will be an evening when wishes come true for kids in your community. Kids in Kentucky will be given the opportunity to have their wishes come true, all thanks to Make-A-Wish Ohio, Kentucky & Indiana. With the chapter's hard work and dedication, they have granted over 10,000 wishes in their 30 year history! You can help make this number grow when you purchase your tickets to attend the Make-A-Wish BIG Wish Gala on August 1, which will help to raise funds for kids in your community.
The Make-A-Wish BIG Wish Gala will also be celebrating Make-A-Wish Ohio, Kentucky & Indiana's 30th anniversary! You will not want to miss out on this event!
Purchase Your Tickets
Individual BIG Wish tickets go for $150 and include cocktails, admission to the silent auction, plus a spectacular dinner and wish program. $75 of your ticket price is eligible for a tax deduction.
If you are looking for other ways to get involved, consider becoming an event sponsor. Choose from a Joy Sponsor ($1,500), Strength Sponsor ($3,000), or a Wish Sponsor ($6,000). Your sponsorship will make a huge difference in the life of a child!
To purchase your BIG Wish Gala tickets or to become an event sponsor, please contact Amy Nelson at amyn@makeawishky.org.
You Can Help Grant Wishes
If you are unable to attend Louisville's BIG Wish Gala, there are still other ways where you can help your local Make-A-Wish and the kids in your community. If you have an unwanted vehicle taking up space in your driveway, garage, or shed, consider donating it to Wheels For Wishes, benefiting Make-A-Wish Ohio, Kentucky & Indiana. Your unwanted car, truck, SUV, RV, motorcycle, or boat can be transformed into a wish for a local child with a critical illness. All you have to do is give us a call at 1-855-278-9474 or fill out our quick online vehicle donation form. Granting wishes is that easy.
Whether you attend the Make-A-Wish BIG Wish Gala or you choose to donate an unwanted car, you can help to make wishes come true. Plus, car donation will also get you a great tax deduction at tax time. However, the best benefit of all is knowing that you are personally helping to grant a wish for a child in your community.