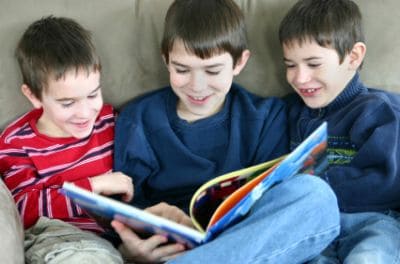 Ways To Beat Cabin Fever This Winter
Cold winter days can be tough on everyone, but especially children who would rather be outside playing and having fun. Snow is great for kids to play in, but there are plenty of days that are just too cold and windy for sledding or building snowmen outside. If you're looking for ways to beat cabin fever, we are here to help with some great ideas for having fun indoors. 
Indoor Activities To Keep Your Kids Busy
Bake Some Winter Treats. Maybe the temperature is too cold to be spending a lot of time outside. There are still things that can be done to keep eyes off of those digital screens for a while. Winter is the best time to do some baking. Whether you are making classic sugar cookies, or a family recipe, cooking with your family can bring everyone closer together. Plus, when you cook in the winter, the heat from the stove can help warm up your home – which is especially useful when Mother Nature is being unkind outside.

Get Philanthropic. During the winter, more than any time of the year, nonprofits and charities are looking for volunteers. Get started on making a difference in your community by planning a day of giving back with your family. Whether you choose to help at the local food shelf, homeless shelter or animal shelter, your contributions will make a huge difference. You can also show your kids the importance of giving by making a car donation to Wheels For Wishes! Wheels For Wishes benefits Make-A-Wish and will pick-up or tow your vehicle donation at no cost to you! Plus, you donation is tax deductible and will help make wishes come true. Donate today by calling 1-855-278-9474 or fill out our online vehicle donation form.

Go Camping In Your Living Room. If you are craving the great outdoors, but not the cold weather, a camping trip to your living room might be just what the doctor ordered. Put up a tent or just build a blanket fort, enjoy a holiday movie, bake some cookies or make s'mores over the stove and pretend you are outside enjoying a warm fire! You can make camping memories without even leaving the living room.

Put Together A Scrapbook. You know those scrapbooks that you have been meaning to put together for the past few years? Winter is the perfect time to get the whole family involved in a scrapbooking session. Children will love helping to put together something so memorable.

Make Jewelry For Charity: Another way to get philanthropic this winter is to create jewelry which can be sold to benefit a local charity. Donate the earned proceeds to a charity of your choice.
Decent Enough To Step Outside?
Be A Tourist In Your Own Town. If the weather is decent enough for a car ride, touring your city could be the perfect family adventure. When is the last time you saw all there is to see in your community? You can be sure people pay good money to travel to your city, whether you live in St. Paul, Philadelphia or Salt Lake City. Get out and enjoy all your city has to offer by taking your kids to local museums, theaters and parks. Become an expert in your own town.

Have A Snowball Fight. If you are able to get outside, put on your warm mittens and a heavy jacket, then head outside for a day of fort building, fort destroying and snowball fights.

Go Ice Skating. Ice can be a lot of fun, as long as it's not on our roads and sidewalks. Ice skating rinks are always fun for kids and adults alike, even if it's been a while since you've practiced. Sharpen your skates and get your family out on the rink together!

Hit The Slopes. For those among us who enjoy high speeds and the wind in their hair, winter might be your favorite season! During the long months of winter, take some time to enjoy some of the sledding hills and ski slopes in your community. Bring your family to the sledding hill, build some minor jumps and watch the smiles on your children's faces grow.

Build A Snowman. For those people looking for a little less action, building a snowman can be a great solution. Snow is at its stickiest when it has just fallen, so the next time there is a two-hour delay for school or it is cancelled completely, head outside and roll yourself a snowman. Remember to dress him up with some fun clothing and props!
However you plan to spend your winter activities, be sure to have fun!