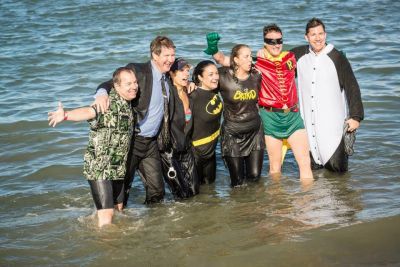 Enjoy A Different Kind Of Triathlon At Brave The Bay
Brave the Bay is an annual fundraiser presented by the San Francisco Police Department to benefit our partner, Make-A-Wish Greater Bay Area. It's an active, holiday-themed event that's perfect for participants of any age.
Three Ways To Participate
Brave the Bay takes place in and around Aquatic Park in San Francisco on Saturday, Dec. 5, with three different athletic events to take part in: Santa Walk and Fun Run, Santa Plunge in the Bay and the Santa Cable Car Pull.
The Santa Walk and Fun Run kicks off the festivities at 8:30 a.m., with registration starting at 7:30 a.m. The event is a family-friendly 5k walk and fun-run that encourages holiday attire. This course is certified, but no official timing is provided, so bring your own timer with you. The fee is $25 per person with additional fundraising encouraged.
The Santa Plunge in the Bay, starting at 10:30 a.m., lets brave participants learn just how cold San Francisco Bay can be in late fall! Whether your approach is to dip your toe and slowly wade in, or quickly dive and get it over with, supporters and onlookers alike will be suitably impressed with your desire to raise money for Make-A-Wish Greater Bay Area. The fee is $25 per person with additional fundraising encouraged.
If you're a senior-level manager at your workplace, you can take the Brave the Bay Executive Challenge. Managers can challenge their company, associates, friends and family to donate with the goal of raising $5,000. If that goal is met, the boss goes into the bay; if not, the employees do. Make-A-Wish will provide you a customized fundraising page that links to social media to help you raise funds easier.
Do you want to prove how strong you are? Put your muscles to the test against the SFPD in the Santa Pull beginning at 11 a.m. Gather a team of six to participate, with a fee of $150, and you'll be pitted against another team to see who can pull a cable car the fastest over a distance of 200 feet.
Want to participate in all the events? Register for the Santa Triathlon at a discounted rate of $60 per person or $360 per team. All triathlon participants will earn a commemorative medal.
No Sports? No Problem
If you don't feel like running, walking, pulling or plunging, then you can head to the Buena Vista Cafe for a meal as part of Cops & Coffee. The server will be aided by a San Francisco police officer which will be accepting your generous tip. All tips benefit Make-A-Wish Greater Bay Area. 
Big Goals To Be Met
This year's goal is to grant 390 wishes in the Bay Area, and this event aims to raise $105,000. You can register online for the event or find a participant to support. For more information call (415) 982-9474 or email events@sfwish.org.
Can't Attend? You Can Help Make-A-Wish Anyway!
You can still help to grant wishes for local kids in your community even if you can't attend this wonderful Make-A-Wish event. Consider making a car donation to Wheels For Wishes benefiting Make-A-Wish Greater Bay Area.
Wheels For Wishes accepts vehicles in any condition so Make-A-Wish can continue to grant wishes for local kids in your community. Donate a car, truck, SUV, RV, motorcycle, or boat, and help turn your unwanted vehicle into a wish come true.
To donate a vehicle to Wheels For Wishes, benefiting Make-A-Wish, please call 1-855-278-9474 or fill out our easy vehicle donation form. You won't regret it!