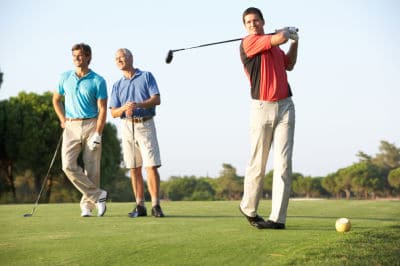 Tee It Up For Make-A-Wish Hawaii
One of the great parts of being in Hawaii is that any time of year is a great time to hit the links, tee it up, and aim for birdies. On Aug. 21 at the Hawaii Prince Golf Club in Honolulu, you can play a fun round of golf while lending a helping hand to Make-A-Wish Hawaii.
Whether you fancy yourself a pro or just want to play a fun game of golf, the Ohana Broadcast Company 2014 Mulligans Golf Tournament is the event for you. The Mulligans Golf Tournament is a chance to play a fun round in sunny Ewa Beach, on an Arnold Palmer-designed golf course. Proceeds from the tournament will support Make-A-Wish Hawaii and will help bring the life-affirming power of a wish with local kids facing critical illnesses.
Sign Up Your Threesome Today
The cost to sign up as a three-person team is $500, so split the price tag with two of your friends or family to help a cause that brings a smile to children in Hawaii. Check-in will be at 11 a.m. and the tournament will begin with a shotgun start at 11:30 a.m., ending at 7:30 p.m.
For more information or to register as a team, go to the event website. To sponsor a hole, contact Jay Kawakami at Ohana Broadcast Company at (808) 306-7579 or email jaykawakami@ohanabroadcast.com.
Make-A-Wish Hawaii Helps Children From All Over
While Make-A-Wish Hawaii has aided more than 800 children in getting their wish since 1982, it also helps children from the mainland. More than 650 Wish Kids chose a trip to Hawaii as their wish, and Make-A-Wish Hawaii is there to assist in those visits as well.
Ever Ask 'How Do I Donate My Car?' Here's How!
Even if you can't make the Mulligans Golf Tournament, you can still help Make-A-Wish Hawaii. If you have an unwanted car, truck, SUV or boat, you can donate it to Wheels For Wishes benefiting Make-A-Wish Hawaii. Your donation will support Make-A-Wish Hawaii's car donation charity, as your vehicle or boat will help turn unwanted vehicles into a wish for a local child. You'll also get a great tax deduction for your donation. Wheels For Wishes takes care of all the work for you.
Wheels For Wishes accepts most makes and models, and vehicles are picked-up or towed away at absolutely no charge to you. Plus, it's easy to donate! Cars, trucks, boats, campers – just give us a call at 1-855-278-9474 or fill out our online donation form. Either way is easy and will help to grant a wish for a local child!